EXPERT CRATING SOLUTIONS
Experienced Custom Wood Crating Company:
Servicing the Greater New York Area
Whether your items are heavy, high-value, unique, or fragile, Craters & Freighters offers crating and packaging solutions customized to meet their needs. Most packing and shipping companies have size and weight restrictions. Not us. We'll crate and ship virtually anything virtually anywhere.
Our crating and packing experts will design and build fully customized crates that protect your assets from damage.  We build the crate that not only meets codes but ensures safety for any item and any need.  
To build an effective wooden shipping crate, our crating specialists consider many factors, including dimensions, weight, value, fragility, and final destination, prior to creation.  Each individual crate is optimized for each individual item. 
Crating with Care
At Craters & Freighters, we do not believe in one-size-fits-all crating solutions. The more closely a crate matches the size and shape of an item, the more secure that item will be.
That's why we design and build the perfect crate ourselves. We also tailor our blocking, bracing, and padding schemes to ensure maximum protection. This is the key element in a successful crating project.  Crating projects take precision and keen attention to detail, every crate is designed perfectly for its particular item, including the protection necessary on the inside of the crate.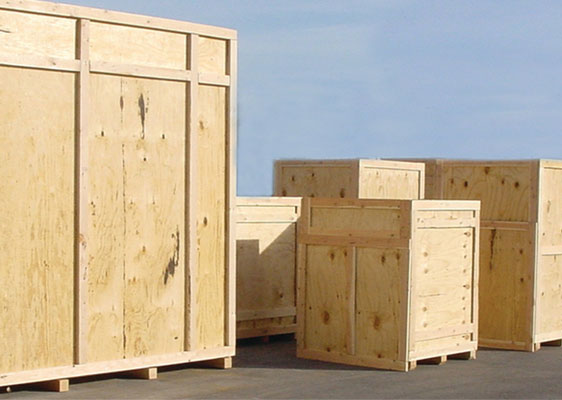 Our comprehensive crating solutions meet all requirements, no matter the size, the value, the destination- our crating experts know how to manage each specific job with safety and compliance at the forefront.
Our customers will tell you that our attention to detail is what enables their items to get to their destination safely and free of damage.
Protection Where It Matters Most
Understanding the severe and unpredictable nature of the shipping stream is key to a safe, secure shipping process. Our engineers will always account for the worst-case scenario and build a tailored crate to support the safest passage for your belongings. We invite challenging projects and know what it takes to get those projects through challenging conditions.
Craters & Freighters will get your assets to their final destination undamaged, we say that with confidence. Call us at 646-862-0423 to learn more about our services in the greater New York area, including:
On-Site Crating– can't get your oversized, awkward, hazardous assets to us, no problem, we'll come to you
Server Rack & Electronics Crating– hi-tech equipment, sensitive electronics, lab testing, IT assets- we have the solutions they need for a safe shipment
Completely Custom Wood Crates
Are you looking for strong support for your heavy items? Oversized, bulky, and extremely heavy items need superior protection when moving and run-of-the-mill moving boxes aren't going to cut it. At Craters & Freighters, we provide sturdy, wooden containers and crates that get the job done.
Our custom crates are made specifically for the item being shipped, taking into account a variety of factors. In addition, each crate is outfitted with the necessary accompanying supports to allow for a secure and safe shipment.
We Offer On-Site Packaging and Crating Services
Craters & Freighters can come to you anywhere if you are unable to bring your large, heavy, or awkward item to us.  We have the tools necessary to expertly design and build custom crates at your business or residence.  If your item needs extra care or support to be moved, just give us a call and our team will head to your location and create that extra care and support with cushioning, stabilizers, and effective containers.
If you'd like a custom crate built and dropped off at your door to simplify your shipment, move, or storage needs, our crating team does that, too.
Any Crating and Packing Need Covered
Craters & Freighters are industry leaders and we have years of knowledge and insight as well as a vast network behind us.  We want you to feel confident in your crating, packing, and shipping strategy which is why we provide the ultimate in detail, care, and customer service throughout your project.
Our custom wood crating and shipping services are top-of-the-line and our team of experts is unmatched. Call us today and let's get your shipment moving.
Get a fast, free, no-obligation cost estimate from Craters & Freighters in New Jersey.
Craters & Freighters are industry leaders with decades of experience supporting us. It's our hope that every customer has the confidence that we do when they choose to crate, pack, and ship their valuables with us. Our strategies are proven and our shipping team that services the greater New York area, is here for you every step of the way.
Our custom wood crating and shipping services are unmatched. Contact us today and let's get your shipment crated and moving. Provide some information on your needs and we'll get back to you right away with a figure you can use in your planning.